As with many mums these days, if I'm not running after the kids or doing household chores, I'm online. Whilst social media can be a great waster of time, it's also a great way to find out more about what's happening around me. Cos, let's face it, these days if it's not on social media it didn't happen 😛
I've been lucky enough to meet many members from the talented mum & dads club. Some in real life, but most in the online world. In the Business Hot-Seat series, I hope to introduce you to some of these innovative and talented people.
P.S If you'd like to be featured in our Business Hot-Seat series, I'd love to hear from you! 🙂 Just PM me via Facebook or email me at hotseat@imnotsupermum.com & tell me a little bit about yourself and your business.
---
Today in the business hot-seat we have the uber talented Lois from Custom Keepsakes.  From her fingerprint guitar picks to adorable custom cufflinks (which can have your kids artworks or writing in it!! How kewl is that?!), I have personally coveted many of the products that Lois does 😛 Like many amazing businesses, what started as a hobby, eventually grew into a boutique family business specialising in customised personalised keepsake jewellery & gifts, but I'll let Lois tell you more about herself 🙂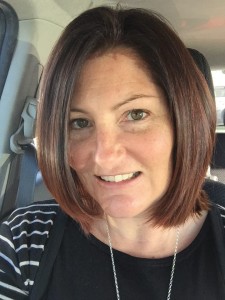 Current Location: North Shore, Auckland
Number of Kids: Miss 11, Master 7 and big kid Mr 47
So tell me more about Custom Keepsakes and how the idea came about?
Being available for my kids particularly in their early years was really important to me, and trying to achieve this while working in the corporate environment simply didn't work for me.  I resigned from corporate work and contracting, to be a full time mum.  During this time I reignited my creative passion making silver jewellery for myself, daughter and as the odd gift.  When friends started to ask me to make things, and then their friends joined in, I realised that there was an opportunity to be paid to do something that I love, work from home, and have the flexibility to be there for my children.
What were you doing before Custom Keepsakes?
I've got a real mixed background……..  When I left school I trained as a physiotherapist and worked for quite a few years in that role.  I loved it, but greed (and a few sporting injuries) got the better of me and I left to work in the corporate environment, first in medical case management, followed by injury prevention and health and safety, health project management, then contracting quality system auditing in the health sector.  By the time I realised how much I missed being a physio and how it would have been perfect part time as a mum, I had let my practicing certificate lapse, and would have needed to retrain.  Funny how stopping for a moment and asking yourself what you really want in life, and what makes you happy can take you off in a completely different!!!!!
How do you manage juggling being a Mum & running a business?
Its tricky………..  It would have been quite easy to set ambitious goals of growing the business, franchising, or becoming a global brand but the reality is that would take me back to the corporate lifestyle and away from my children again.  I constantly have to remind myself that the most important things are to create quality products and provide a top notch service, be there for my children, and love what I do.  While I aim to work school hours, and no weekends, the reality is that I'm often working in the evenings, parts of weekends, parts of school holidays, and when they are in bed.  Something I still need to work on but I'm getting there.
What is your advice to anyone starting up a business for the first time?
It's not all roses and the things fairytales are made of.  Initially it takes way more hours than that which you are paid for.  It pays to surround you with knowledgeable people and mumpreteneur networks.  You really need to LOVE WHAT YOU ARE DOING as there will be days that you want to give up on your business, but at the end of the day, if you truly believe in your business, perserverence is your friend.
What are your top 3 favourite products that Custom Keepsakes have produced?
I seriously LOVE creating fine silver fingerprints whether it be Pandora style charms, pendants, or key rings. I've created them with fingers as young as 4 months, and as old as 93.  I've taken prints of cancer victims whom want to leave something personal that they have touched for their loved ones, and fingerprints of unconscious people in hospital beds.  Every print is personal and special to the recipient.
Sterling silver cube pendants – these are simple and affordable and can capture the initials or symbols (hearts or stars) of up to 4 family members. They are both symbolic, and stylish, plus something that can be worn daily as opposed to saved for a special occasion.
Sterling Silver Custom Cufflinks and Key rings – I seriously love kids artwork, particularly their first drawings of people where they heads are huge, and the arms come out of their heads, and houses always have chimneys and crosses in the windows.  Sadly many of these precious pieces end up covered with fluff and food because they have slipped off the fridge magnet never to be seen again until you shift house or renovate your kitchen!!!!  I love reducing their size and preserving these images in a sterling silver keyring, pendant or cufflinks under a glasslike resin.  Just so precious!!!!
If you had a super power, what would it be?
I think that we ladies all have a superpower.  I remember when my daughter was 3 she was invited to a superhero party with only boys.  There were no girl superhero costumes back then so I made one out of hot pink lycra and put a big black B on the front.  She had a black satin cape with hot pink trim.  I primed her so that if any of the men asked her what her super power was, she would respond with "multitasking – if men could do it they could rule the world!!!!".    ….. what would my superpower be??????  To halt all bullying, and to create positive body image amongst our girls!!!!
Vanilla or Chocolate?  It was always chocolate until I fell pregnant for the first time. I now can't pass up lemon!!!!
Biscuit/Cookies or Cake? – Cookies!!!!! Nom nom…..
---
Custom Keepsakes can be found on Facebook, Instagram or Twitter.  Today we have one of my many personal favourites (and one of Lois's as well!) up for grabs 🙂  If you'd like to be in to win a personalised Sterling Silver Cube Pendant & Sterling Silver Ball Chain, here's what you need to know:
To enter, make sure you:
1.  Follow I'm NOT SuperMum on Facebook
2.  Follow Custom Keepsakes on Facebook
3.  Like & Comment on the post that brought you here.
4.  Sharing is caring remember 😉
5.  Enter below in the dango form ->
Competition will run from 7am 28/03/2016 to 11pm 3/04/2016.
Other competition T&Cs can be found on the entry form below.  Entry is deemed acceptance of all terms & conditions stated. E&OE.
>>>>>>  The WINNER has been announced!!
Comments
comments