As with many mums these days, if I'm not running after the kids or doing household chores, I'm online. Whilst social media can be a great waster of time, it's also a great way to find out more about what's happening around me. Cos, let's face it, these days if it's not on social media it didn't happen 😛
I've been lucky enough to meet many members from the talented mum & dads club. Some in real life, but most in the online world. In the Business Hot-Seat series, I hope to introduce you to some of these innovative and talented people.
P.S If you'd like to be featured in our Business Hot-Seat series, I'd love to hear from you! 🙂 Just PM me via Facebook or email me at hotseat@imnotsupermum.com & tell me a little bit about yourself and your business.
---
With the harsh sun conditions, and one of the highest rates of melanoma, being sun safe in New Zealand is a must! One major part of the "Slip, Slop, Slap, Wrap" mantra in NZ is finding & using a sunscreen that works without irritating existing (or creating new) skin issues. As someone with sensitive skin, and having passed on this onto my kids, I'm always on the lookout for a sunscreen options that are hypoallergenic and without harsh chemicals.
This year I got to trial & review the kewl characters from FunScreen Sunscreen, which you can read here. From small family beginnings, FunScreen Sunscreen and their Sunscreen Hero's aim to captivate imaginations and entice kids to be responsible for their own sunscreen, but I'll let Phillipa tell you more about herself & FunScreen Sunscreen 🙂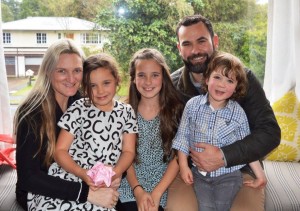 Current Location: Campbells Bay, Auckland
Number of Kids: 3 made up of 2 girls (ages 7 and 10) and a boy (age 3)
So tell me more about FunScreen Sunscreen and how the idea came about?
FunScreen is a social enterprise as we seek to develop positive habits early and encourage our kids to want to use sunscreen with unique, cool and fun designs (currently the shark, princess and cupcake). FunScreen combines a high quality sunscreen, engages the imagination with active play, which is unlike anything offered in the market today.
My youngest child, Kade, was super sensitive to the touch of pharmacy products. For example, he tended to break out in a heavy, red, blistering rash when his skin came in contact with shampoo! It's so important to be very careful as kids skin is thinner and therefore more sensitive to reactions. Equally, everyone is aware of how harsh the sun is in New Zealand – my brother (and business partner) has had a close encounter with melanoma. As a mother of three children, it is very important for me to protect my children as much as possible given New Zealand has the highest melanoma rates globally. In fact, one blistering burn early in life can more than materially increase a person's lifetime risk of melanoma! These are my key motivations for creating FunScreen with truly engaging, high quality products focusing on kids.
My pharmaceutical research and biochemistry career has been critical in designing and developing a high quality SFP50+ formulation with our manufacturer. Our formulation provides a high level of protection removing what we believe are the harshest chemicals, leaving it gentle enough for the most sensitive skin types. FunScreen has been dermatologically tested and approved so therefore safer for the whole family.
FunScreen is a local New Zealand company, which was started with my brother, John. It's been a wonderful experience building and creating a family owned and operated company centered around our core values!
What were you doing before FunScreen Sunscreen?
I am still a senior level clinical researcher, which allows me to stay at the forefront of pharmaceutical formulations and ingredients. My brother, John, worked as a fund manager within the finance industry in London before returning to New Zealand to co-run the business.
How do you manage juggling being a Mum & running a business?
Sometimes I don't know! To be honest, I have a very supportive husband, which helps me to fully engage and combine family and professional life. Time management is key as well as finding time to rest when the opportunity presents!
What is your advice to anyone starting up a business for the first time?
You must have passion and absolute belief in your products. If not, then it's likely you'll lose energy and motivation when the inevitable challenges occur (and there will be many!). Having the right support and surrounding your self with positive people is very important too.
What are your top 3 favourite products that FunScreen Sunscreen has produced/retails?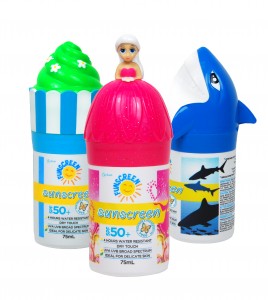 The core products, the FunScreen shark, cupcake and princess sunscreens, are my favourite. We are also considering the next cap design and we can't wait to talk to our customers about it. We definitely welcome any ideas too!
We are also considering developing an entirely new SPF lip balm range, which will be very cool and totally unique in the market! Watch this space….
If you had a super power, what would it be?
The ability to either slow down time or move at super speed! This definitely ties into question 5….!
Vanilla or Chocolate? Chocolate!!! What's vanilla?
Biscuit/Cookies or Cake? Hmmm neither really. I'm happier with Whittakers chocolate!
---
FunScreen Sunscreen can be found on Facebook, and on Instagram, and orders can be made via their website. Today, 2 lucky readers will win their choice of 2 FunScreen Sunscreen Heroes (Shark/Cupcake/Princess).
Here's what you need to know:
To enter, make sure you:
1. Follow I'm NOT SuperMum on Facebook
2. Follow FunScreen Sunscreen on Facebook
3. Comment below with which two FunScreen Heroes you would like
4. You must comment on this Facebook post with "Yes Please"
5. Tag a friend & share (optional)
Competition will run from 7pm 1/12/2016 to 11pm 06/12/2016.
Terms & Conditions:
Entry is deemed acceptance of all terms & conditions stated.
Entry is open to NZ Residents only. Entry to this giveaway is free, no purchase is necessary. 2 readers will win their choice of 2 FunScreen Sunscreen Heroes (Shark/Cupcake/Princess). The winners will be announced on the imnotsupermum blog and on Facebook; and will have 3 calendar days to claim their prize. In the event of the prize not being claimed within 3 calendar days, a new winner will be drawn. We will endeavour to send the prizes out as soon as practically possible. Responsibility is not accepted for prizes lost, damaged or delayed as a result of delivery failure of any kind. Prizes are not transferable, re-saleable or exchangeable. There is no cash or other alternative to the prizes in whole or in part. Entrants are deemed to have given imnotsupermum.com and Funscreen Sunscreen consent to contact them for marketing purposes. All entries become the property of imnotsupermum.com and Funscreen Sunscreen, and may be used for promotional and marketing purposes. This promotion is in no way sponsored, endorsed or administered by, or associated with Facebook. E&OE.
Comments
comments