As with many mums these days, if I'm not running after the kids or doing household chores, I'm online. Whilst social media can be a great waster of time, it's also a great way to find out more about what's happening around me. Cos, let's face it, these days if it's not on social media it didn't happen 😛
I've been lucky enough to meet many members from the talented mum & dads club. Some in real life, but most in the online world. In the Business Hot-Seat series, I hope to introduce you to some of these innovative and talented people.
P.S If you'd like to be featured in our Business Hot-Seat series, I'd love to hear from you! 🙂 Just PM me via Facebook or email me at hotseat@imnotsupermum.com & tell me a little bit about yourself and your business.
---
Ok, so here's a little not so secret secret – I HATE cleaning.  Of course I do it, but if I could wave a magic wand and get the washing/cleaning/ironing done, I'd be ecstatic! Especially the washing and ironing part! I'm always amazed at how much washing 2 little people conjure up – like seriously, you're so tiny?!
So I'm like one of those mums that are like yes dear jumping in muddy puddles and doing gardening with dad is fun, whilst inwardly cringing at the amount of washing that would come out of this experience.
If you're sitting there nodding in agreement, this next local business hotseat will be one to read 🙂 Like us, Alana from Mud Mates was tired of the mountains of washing that came with outdoor play, so she did something about it.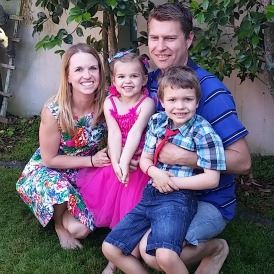 Current Location: Napier, (sunny Hawke's Bay), New Zealand
Number of Kids: Master 5 and Miss 3
So tell me more about Mud Mates and how the idea came about?
When my son was a toddler, I felt like I was constantly changing his dirty clothes and dealing with a seemingly never ending pile of washing. I made a pair of protective coveralls for him and they worked wonders! He practically lived in them, and when he was finished making a mess, I just slipped them off and he was lovely and clean underneath. The positive feedback from other parents who saw the coveralls spurred me on to turn my idea into a business and Mud Mates was born.
Today, the Mud Mates range has grown and we specialise in waterproof and water-resistant over-garments for babies, toddlers and children. All our products are still handmade in Hawke's Bay, which I'm extremely proud of, and I love that our products help other mums by reducing their washing pile and saving them time and money.
What were you doing before Mud Mates?
Although I studied Hotel Management I didn't end up working in this field for long. I've worked in Australia, the UK and back here in NZ as a Personal Assistant, Executive Assistant, Accounts Administrator and Office Administrator – jobs that generally involve organising things and other people!
How do you manage juggling being a Mum & running a business?
It can be really really tough! Now that my youngest has started kindy a couple of mornings a week I'm getting more kid-free time which is amazing. Otherwise I try to fit work in around the kids, so during nap time or in the evenings once the kids are in bed. I try not to work in the weekend but this isn't always possible. Thankfully hubby is always happy to take the kids out for a couple of hours if I need to get something finished off.
What is your advice to anyone starting up a business for the first time?
Be prepared to work-hard! Running your own business is tough, especially the first year or two as you get off the ground. You'll likely have to work long hours for little pay initially, but if you have the drive, determination (and the right product or service) then go for it as it is really rewarding.
What are your top 3 favourite products that Mud Mates have produced?
Our original all-in-one Coveralls are still my all time fave as they provide head-to-foot coverage to keep the mess out. My kids practically live in theirs and they have saved me so much washing over the years!
Shoe Covers – cute but extremely practical. Perfect for crawlers because as well as keeping wee feet, socks or shoes dry and warm they also help keep socks on and prevent the tops of shoes getting scuffed.
Our new Fitted Tablecloths – elasticated, fitted table covers, custom-made to fit your tablecloth they protect table tops and make clean up easier and quicker. Perfect for in the home for messy play, playdoh, arts and crafts, baking or even at meal times to help with those spaghetti spills! They are also a fantastic resource to have in kindergartens, daycare centres, playcentres or playgroups.
If you had a super power, what would it be?
Not sure if it's quite what you had mind by a 'super power', but I'd love to be able to function (happily and patiently) on no sleep. Imagine what I could accomplish!! (The house might even get cleaned!) 😛
Vanilla or Chocolate?  Chocolate of course! (I'm a total chocoholic).
Biscuit/Cookies or Cake?  All of the above (preferably chocolate).
---
Mud Mates can be found on Facebook, Instagram & Pinterest.  Today we have up for grabs a pair of Children's Overpants from Mud Mates, in your pick of colour & size from the options available 🙂 To be in to win, here's what you need to know:
To enter, make sure you:
1.  Follow I'm NOT SuperMum on Facebook
2.  Follow Mud Mates on Facebook
3.  Like & Comment on the post that brought you here.
4.  Sharing is caring remember 😉
5.  Enter below in the dango form ->
Competition will run from 7pm 12/04/2016 to 11pm 17/04/2016.
Other competition T&Cs can be found on the entry form below.  Entry is deemed acceptance of all terms & conditions stated. E&OE.
>>>>>> Competition Closed! 🙂
Comments
comments