By now your DH/OH/Kids have just figured out that it's 5 shopping days (if you count today) before Mother's Day.  FIVE! And, if you're like me with 2 kids under 5, poor DH is sitting on the couch trying to remember any hints I would have possibly dropped in the last 17 years of things I like. Or better yet (amusing for me anyway 😛), he's asking the kids what they would like to get for mum for Mother's Day; which goes a little something like this –
DH – So, what do you guys want to get mum for Mother's Day?
Master 4.5 – Mum would like the Mustang/Camaro/Stingray remote control car I saw the other day and wanted (Yes child mum would love the real deal classic car though 😛)
Miss 20 months – Chocolate! (More so because she'd like some NOW but aww so like her mother 😛).
Now despite all this detective work by DH, in all honesty I don't actually want much for Mother's Day.  Time with my kids, a full nights sleep & a sleep in (even to 8am would be great!), time to read my book, and a great cuppa (that I FINISH BEFORE it goes cold), would be at the top of my list.
By now though you'd have probably read half a dozen blog posts or Facebook ads for things to buy mum for Mother's Day or "What every mum wants for Mother's Day", so as a mum blogger here's my obligatory blog post, in no particular order, on "Gift ideas for Mother's Day" 😛  Hopefully you'll find something different in here.  As there's only 5 days left, I've included things that have later close off dates, can be picked up from a physical store or made.
Personalised Car NumberPlate Surrounds – PlateFrames
Show the world how much you appreciate mum by getting her a personalised plateframe for her car 🙂 Whether it's the standard "Mum's TAXI Service" or my personal favourite "Who are these kids & Why are they calling me mum", PlateFrames have a good range of pre-made PlateFrames singles or you can customise a pair for your Mum.  Just be in quick to get it before Mother's Day 🙂
Now if you've been reading the blog thus far, you would have seen my hotseat interview with Keren.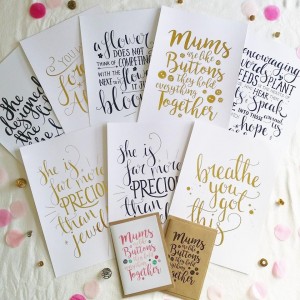 Whilst she does do specific Mother's Day prints, my favourite would have to be the "Breathe you got this" print.  Available in gold foil print for Mother's Day, and with 20% off for Mother's Day, I love the calming words.  Would be great for a first time mum or in the early days – you know the time when everything's so overwhelming the mum-bun is your goto hair-do?  Just make sure to order before Wednesday!
As a mum who loves reading, I find these brilliant! I know some people hate giving gift cards, but I honestly hate having other people choose books for me.  These can be used at bookstores nationwide, and best yet can be bought at any New World/Pak N Save/Z Service Station (just incase you're reading this way too late 😛)
Occasionally, my kids eat all their dinner without a single fuss. Times like these, convince me I can go back to my old ways of cooking.  Until, the next night of course 😛  The Trio of Herbs gift set from Tree Gifts NZ, would be my favourite gift set of theirs to get.  It comes with 3 potted culinary herbs and a stand – great for a kitchen window for the Masterchef mum in your house 🙂  Unfortunately, this particular gift is only available for delivery to non-rural North Island delivery, but they have lots of other great ideas!
Chocoholics Gift Tin – The Pressie Box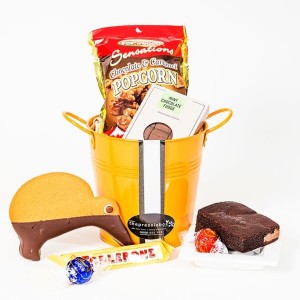 What type of chocolate do I like, you say? It doesn't matter 😛 No discrimination here – chocolate is chocolate. The more the better 😛 If you know someone like this, the Chocoholics Gift Tin from The PressieBox looks great! And, in the jaw dropping event that you actually know someone who doesn't like any type of chocolate (are there seriously people like that?!), they have many great gift boxes ranging in price, size & for most occasions.  Just be in quick as cut off times are soon!
For those mums who love doing the crosswords & puzzles in the Sunday Star-Times or New Zealand Women's Weekly, the puzzle books from PuzzleBeetle are perfect for those mums into the mind-play madness 🙂
Ok, so this one's a tad pricier than everything else, but I'll just pop this in incase DH ever reads this & we've won lotto or something 😛
Raspberry/Orange/Banana Pi
Yes, granted it may look like I'm talking about food again, but I'm not this time 😛  Raspberry Pi was the original of the lot – a low cost credit card sized single-board computer primarily using Linux-kernel-based operation systems.   Orange & Banana Pi are also similar & are competitors to Raspberry Pi.  There are so many versions of each Pi, that it would take too long to discuss the merits of each in this blog post, so I'd suggest leaving it to Mum to decide which she would like.
All of the above do need to be ordered in, so you've probably left it too late for Mother's Day.  To be honest though, if you even suggested that it would be a Mother's Day present to a geek mum like me, I'd be busy for days trying to figure out which would be best for my applications (in between nappy changes, feeding & all else that comes with kids of course :P)
Now, so far I've hopefully covered some gift ideas that are different to every other blog post you've read. Now I'm not usually the flowers, jewellery, smellies kinda girl but if the Mum in question is, here are some different ideas for these too.
Fandom, Sci-Fi, Supernatural Jewellery – Dark Angel Jewellery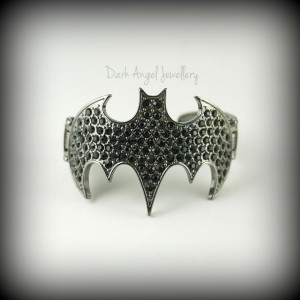 Now other than my wedding rings, a pair of teardrop hoops earrings & a necklace I've had since I was 13, I rarely change my jewellery from day to day unless it's a special occasion.  So I'm the LAST person on this earth to be talking jewellery 😛 However, the pieces Dark Angel Jewellery stock under their Fandom, Sci-Fi & Supernatural Jewellery really do catch my eye.  They are different enough that not every mum at after school pickup would be wearing something similar.  Especially good if you've got a Mum who's into Batman (ME!), Dr Who, Game of Thrones, or even Vampires & Zombies.  My favourite pieces would have to be the Batman Studs or the Batman Cuff.
Created Homewares – 189 Main Street, Upper Hutt
If you're in the area, Created Homewares is a great new store to checkout stylish new decor bits that Mum would love.  Personally, I'm waiting till my kids are a bit older to hopefully go back to a neat tidy place I can have nice adult things in.  Until then, toys are my decor 😛
Whilst I find the wraps really cute, to be honest I've not tried this yet as I'm too chicken to 😛 I'm terrible at even painting my nails & with my hands in water so often with two kids, I've just given up having nice nails until they're past that point of needing mum to do EVERYTHING :p
So hopefully you've now got a few unique ideas for Mother's Day presents 🙂  Do you have any ideas for unique Mother's Day gifts?
P.S.  All product images in this post are copyright to their rightful owners.   All of the products featured on this page have been chosen personally, and not in conjunction with any of the vendors listed 🙂
Comments
comments