As with many mums these days, if I'm not running after the kids or doing household chores, I'm online. Whilst social media can be a great waster of time, it's also a great way to find out more about what's happening around me. Cos, let's face it, these days if it's not on social media it didn't happen 😛
I've been lucky enough to meet many members from the talented mum & dads club. Some in real life, but most in the online world. In the Business Hot-Seat series, I hope to introduce you to some of these innovative and talented people.
P.S If you'd like to be featured in our Business Hot-Seat series, I'd love to hear from you! 🙂 Just PM me via Facebook or email me at hotseat@imnotsupermum.com & tell me a little bit about yourself and your business.
---
Today in the Business Hot-Seat, we have Megan from Little Know It All 🙂 Like all great businesses, Little Know It All grew from an interest and a passion for education & a want to create.  Little Know It All allows Megan to create, whilst still being an very active member of her best creations yet 🙂  Here's Megan to tell you more about her business, and how she manages to juggle it all:
Current Location:  Christchurch
Number of Kids:  Hudson is my cheeky 2 year old boy and Emerson is my gorgeous 8 month old girl
So tell me more about Little Know It All and how the idea came about?
Little Know It All started as a way for me to maintain my interests in education and nurture my creativity while I was away from the classroom on maternity leave. I was asked by a couple friends to share some of the activities I had made and then other colleagues began to ask too! I wondered then if there might be a place for these activities among other teaching professionals and parents…turns out there is! I have really enjoyed being able to be with my children at home while creating these fun and engaging activities too. And now, I am able to use these with my son as well!
What were you doing before Little Know It All?
Before this, I was a NZ trained primary school teacher and I had been working in Dunedin and Christchurch going on 10 years! I had started studying towards a Masters degree, completed an ESOL (Teaching English to speakers of other languages) scholarship and lead both Numeracy and Literacy in the school I was working in.
How do you manage juggling being a Mum & running a business?
To be honest, it is challenging! Some days you feel like everything is falling into place perfectly and others you just want to run away from 🙂 I try to be as organised as possible by writing lists, scheduling FB posts, answering messages and e-mails promptly, using a meal planner, doing manageable chores throughout the week and making sure my children get to enjoy a few fun activities and quality 'Mummy time' too! I try very hard to fit things in and around my family, so I usually work during nap times and in the evenings once the kids are in bed. I don't like to work in the weekends, but sometimes I need to and my amazing hubby is always happy to take charge of the wee ones if I need to finish things off.
What is your advice to anyone starting up a business for the first time?
Go for it!  Having said that, I would suggest doing a bit of research before you commit to it 100%. Think about the time you have available, the costs, perhaps talk to someone already in business first and try to establish a network of likeminded business people who you can bounce ideas off – I have found this invaluable 🙂
What are your top 3 favourite products that Little Know It All has produced/retails?
Definitely the Sight Word Formation Cards. They are a great way to introduce basic sight words to children and encourage them to write those words too! There are 16 double sided cards (32 sight words altogether) in each set; these are laminated so they can be written on with whiteboard pen and wiped clean, ready to be used again.
The Alphabet Picture Cards are fabulous too! They have been digitally printed in bright colours and are laminated making them durable as well. Each card is double sided with upper and lowercase letters on one side and a matching picture on the other (Aa – apple, Bb – bucket, Cc – cat etc). They are great to use as flash cards to help with letter recognition; to teach initial sounds; to teach basic word/letter associations or use some play dough and pipe cleaners to create a tactile learning experience!
The Little Learners Packs are also popular and make a really nice gift or travel companion for kids. These can be customised but generally include a mixture of activities including alphabet flash cards, number flash cards, sight words, shapes and writing practice activities. Each pack comes with instruction cards for the activities and everything is enclosed in a zip up case. Very handy indeed!
If you had a super power, what would it be?
So, like a nerd I looked up super powers because the typical speed, strength, and mind manipulation weren't doing it for me! I found this though, and I thought having this super power would be awesome!!! It's the power of Omnilinguism, which is the ability to understand any form of language. So you could travel around the world and never have to worry about a language barrier if you had this superpower. It was either this or time travel… 🙂
Vanilla or Chocolate?  Chocolate all the way!!! I am an absolute chocoholic 🙂
Biscuit/Cookies or Cake?  Both – I have a terrible sweet tooth!
---
Little Know It All can be found on Facebook, and on Instagram, and orders can be made via their website.  Today, we have up for grabs a set of Basic Sight Words Flash Cards  – There are 32 most commonly used words and this set comes with an activity card offering more ideas to extend its usage.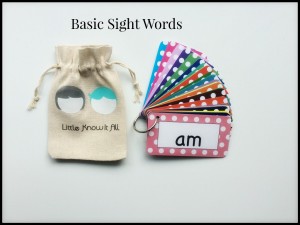 Here's what you need to know:
To enter, make sure you:
1.  Follow I'm NOT SuperMum on Facebook
2.  Follow Little Know It All on Facebook
3.  Like & Comment on the post that brought you here.
4.  Sharing is caring remember 😉
5.  Enter below in the dango form ->
Competition will run from 7pm 13/09/2016 to 11pm 18/09/2016.
Other competition T&Cs can be found on the entry form below.  Entry is deemed acceptance of all terms & conditions stated. E&OE.
Comments
comments