Halloween wasn't a big thing when I was growing up. TBH, I didn't even know it existed out of the USA, until I moved to New Zealand 😛 Now that I have kids it's just an opportunity to create more play activities for them.
The following is just an adapted shortbread recipe, as only my husband likes ginger cookies.
Ingredients:
1 & 1/2 cups standard flour
1/2 cup cornflour
3/4 cup icing sugar
1/2 teaspoon ginger powder
250g butter
Queen Royal icing
Method:
Preheat oven to 150*
Cream the butter & icing sugar.
Add sifted flour and cornflour.
On a floured surface, roll out the dough to approximately 1cm thick.
Cut using gingerbread man cookie cutter.
Bake for 25 minutes or until gingerbones man is pale but crisp.
Allow to cool on a wire rack.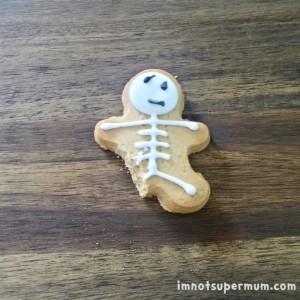 Now the fun part; using the royal icing to decorate 🙂
When preparing the royal icing, make sure it's a little bit runnier than toothpaste.  It should not run off a spoon, but drop off slowly.
Divide the prepared icing into 2 bowls, and colour one black with gel icing colour (This can be a smaller portion as you only need it for the face).
Either use piping bags with a No 1 or 2 tip, or snip a tiny bit of the end of  sandwich bags.  Fill separate bags with the prepared icing.
Then using the white icing, draw a circle on the head of the gingerbones man.  Draw the skeleton.   Leave to dry slightly before carefully adding the eyes and mouth with the black icing.
Of course, the colours can be changed as you wish 🙂
NOW, the fun part for me; my FIRST GIVEAWAY!
Be in to win:
Halloween eyeball jelly candy
Set of 5 round cookie cutters
Set of 5 heart cookie cutters
Set of 5 star cookie cutters
Wilton black & orange gel icing colours
Gingerbread man cutter
Cake decorating pen
RIGHT, now the details on my first giveaway can be found on the INSM Facebook page.
Conditions of entry:
You must like ImNotSuperMum.
Tag as many friends as you want for extra entries.
Sorry, only open to New Zealand residents.
Ends 27/10/15. Winner must be in contact within 2 business days or prize will be redrawn.
Good Luck & Have Fun!
Comments
comments