​Yes, you've read that right! 😛 Dinosaurs have arrived in Auckland & we went to investigate 😜
In typical Auckland fashion, neither the traffic or the weather came to the party, but we arrived with plenty of time before our 3pm session. The Dinosaur Encounter is done outdoors, so don't forget to carry a rain jacket or umbrella just in case 🙂 Thankfully for us the rain held off until we were on our way home.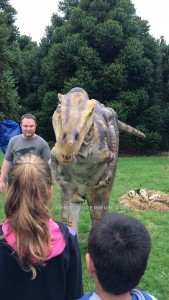 The encounter starts with the lovely lady, who was enthusiastic despite the weather, introducing the concept of going back in time to when the dinosaurs roamed. It is very interactive for the kids, but be aware that if you've got tiny kids (like my 2 year old), the adults are asked to stay back so tiny kids might feel a bit bewildered in the "mosh pit" of kids 🙂 I'd suggest picking up the littlest ones, which does mean they're a bit further back, but it's easier than trying to get them to understand that they can't go over the barrier and tackle the dinosaur 😛
It was suggested that the event was for 5+ years, as it may be a bit scary. However, miss toddler seemed to enjoy it & didn't seem scared – even to the point of wanting to hug a dinosaur! Lol But it does depend on each kid's temperament 🙂 I felt that even though Master 5 knows these dinosaurs aren't around any more, he started off a bit apprehensive as they are quite large compared to the kids! The kids get to lean over the barrier and touch the dinosaurs as they walk past, so it is good to get there early. I found that you don't have to be in the "main" standing areas; even if you're on the sides, you don't miss much as the dinosaurs walk around in their designated area so everyone gets a chance.
This main event is free, however, there is a charge for going into "Dino Zone", where you can do different activities, and for face painting/balloons etc. It was all a "no dog" zone which personally I thought was great – not that I don't like dogs, but with that many kids on the loose, dogs would have just added to the mayhem 🙂
After, or before, the event you can also check out the great display at the main office/entrance.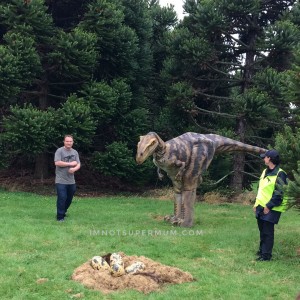 If your kids are dino mad, it's a great event, and even if they're not, it just adds to the experience that the Auckland Botanic Gardens is already. I'd pack a picnic and make a day of it. There's plenty of space for kids, plus plenty of things to turn into learning experiences.
I'd definitely do it again, and probably will to be honest 😛 The event runs almost every weekend, 3 sessions each day, until the beginning of February 2017. You do have to book, despite it being a free event – I guess knowing how many people attend helps them plan for future events 🙂
For more details, check out the Auckland Botanic Gardens page.
Comments
comments