​Growing up in South Africa us kids never really bothered about sunscreen for a few reasons.  One, we were already brown, so going from light brown to darker brown in summer wasn't really an issue lol. Two, any sunscreen we might have had would have been sweated off faster than you could apply it. And three, most importantly, the sun didn't burn you like it does in New Zealand.
With New Zealand having some of the harshest sun conditions, and the highest rate of melanomas, sunscreen really is a must though, so I definitely wouldn't encourage doing the same as I did 🙂  It is for these reasons that I have changed my ways, especially now that I have kids.   The trouble with sunscreen though is that it goes on your skin – yes, profound statement I know :P, but the thing is with kids' skin is that it can be really sensitive.  Finding a sunscreen that will not cause any issues, can be quite difficult.  I've tried alot of brands and a lot of types (lotion, spray on etc), but hadn't found one that is easy to apply for a kid.  That is until I was asked to test the FunScreen Sunscreen brand.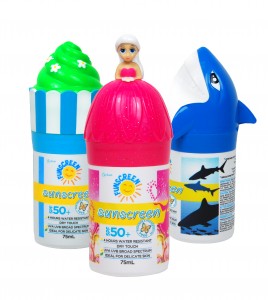 FunScreen Sunscreen currently comes in 2 plain cap options plus 3 fun characters for kids, which my kids found super kewl! Master 5 was thrilled to have his shark sunscreen, and wanted to try it the minute it arrived.  I guess that's the trick – making kids enthusiatic about the mundane task of applying sunscreen, even if mum & dad forget 😛  I will admit I was a bit apprehensive trying it on the kids, due to the issues we've had with sensitive skin (sorry kids that's my genes :P), so I tried a bit on their inner arms & left it for 24 hours.  Kinda like a patch test for hairdye.  After 24 hours there were no issues at all, so we applied it for the day & we haven't looked back since!
Master 5 has learnt to apply it all on his own, which is ultra easy due to its roll on applicator, so he takes it to school to reapply before lunch.  Miss toddler does need a bit of help to rub it all in, especially on her neck, but even she was thrilled to be able to do it on her own.  Typical miss-independent 😛
Things I love about FunScreen Sunscreen:
High quality SPF50+ sunscreen
Hypoallergenic, TGA and dermatologically tested and approved
Preservative Free – No Parabens, No Nanoparticles, is PABA free
Fragrance Free
Not tested on animals
Non stainable on clothes – great when you have an independent 2 year old!
Easy roll on applicator, dry touch and non greasy – this last part is especially important to me.  I hate that greasy feeling you get after applying any lotion.
Formulation is 4 hours water resistant.
FunScreen Sunscreen is 100% New Zealand owned by brother and sister team, John & Phillipa.  To read more about Phillipa & the story behind FunScreen Sunscreen, check out how Phillipa fared in the imnotsupermum Business Hot-Seat :D.  Any of the FunScreen Sunscreen range can be purchased from various store around the country.
Thank you to FunScreen Sunscreen for providing the review products.  As always all opinions in this post are entirely my own 

Comments
comments