​If you've been on my Facebook or Instagram lately, you'll know something major has happened in the imnotsupermum household in the last few weeks. No I'm not pregnant (hell no! Lol), my big boy has turned 5 and has started school! Waaaa!
Like a lot of mums I know, I am not a morning person. So add making lunches and homework to the already long list of things to do before leaving home at 8.15AM, and I'm a blabbering mess at the end of the day.  Unfortunately, dinner can't be magically pulled out of the fridge/freezer (I've tried) and takeaways every night just seemed a bit ridiculous and not entirely healthy.  Thankfully, before his first week at school, I was contacted by World on our Plate (WOOP), to trial their new Classic meal box. Yay!
WOOP is an Auckland based company who plans, preps and delivers the fresh ingredients for 3-4 meals to your door every week.  So you don't have to think about what to have, or do 90% of the prep work, saving you TIME!  If you think this is for you and you want to win your own trial week, head to my Facebook page 🙂 If you'd like to know what I thought about it, keep reading 😛
Now, each week the menu changes and the fresh ingredients are delivered on a Sunday or Monday.  Don't worry if you're not home at the exact time they deliver, as they do deliver in a cardboard cooler box with ice packs, so would probably be fine a few hours outside, in typical Auckland weather.  Just make sure before delivery you have plenty of space in the fridge because it does take up a fair bit of space as we found out 😛

What we thought :
Day One – Chicken Roulades with Potato & Leek Smash and Wilted Spinach
Never thought to put leek and potato together, but we all really enjoyed this part of the meal.  The chicken and bacon were fresh, and whilst I thought it would not be enough, it was definitely enough for us plus left overs.  The basil by this time had wilted a bit, and could have probably used a wipe dry before putting it into the plastic bag, but was still useable.  The wilted spinach was.. well… it was wilted spinach.  We found this meal quite nice, but as I normally cook with more spices/flavour it did lack a little something to me.  It was well received by DH and the kids though 🙂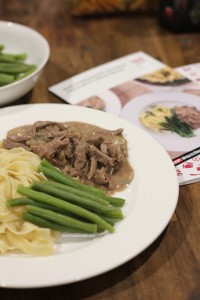 Day Two – Beef Stroganoff on Fresh Pasta with Green Beans
The ingredients were fresh and I love that they used fresh pasta rather than dried. There was plenty to go around, but as I don't eat beef, so DH was the main taste tester for this round.  My only gripe with this meal was how many pots and pans it took; one each for the pasta and green beans, and one for the beef.  If you're not doing the washup tho, that's all good 😛  This one got the thumbs up again from the rest of the fam.
Day Three – Italian Salami, Mushroom & Capsicum Pizzas with Mesclun Salad
Love that they used a thin base for the pizza.  As everything was already mixed, grated and prepped, it was a meal that I would have considered getting the kids to do, but after a long day they had had enough and so this was left to mum to do.  My only gripes with this one was the capsicum quality had deteriorated a bit by then and there was not enough cheese by our standards 😛  The family did enjoy this meal as well, but DH did wonder who seriously serves a green salad with pizza 😛|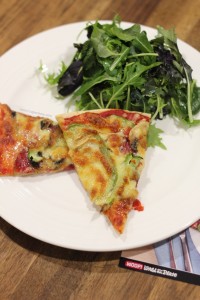 Day Four – Bun Cha Pork Meatballs with Rice Noodles & Salad
Again, the ingredients quality was very good for this meal.  Flavour was good and the family enjoyed it.  Had never tried a few of the ingredients so it was good to try new things 🙂
All in all, the meals took a little longer to prepare than they said, as I'd never cooked them before plus I'm a tad pedantic and needed to wash the ingredients again.  If you're not so OCD like me, timing would be perfect 😛
I guess the main questions you guys would be asking are, is it worth it and would I purchase it myself?
The range and quality for the meals I got was perfect, bar a few glitches (wet herbs put into plastic bags deteriorate faster).  There was plenty of it for each meal, enough for lunch leftovers for all and we aren't small eaters by my standards 🙂  The Classic meal box was designed for 2 adults and 2-3 kids.  You can choose to have 3 or 4 meals delivered each week.  The Classic box we received was for 4 meals and would have come in at $199 for the week.
I love that 90% of the prep is done so it really is a no brainer at the end of the day.  If you've got older kids/teenagers they could even do it themselves if they were confident in the kitchen! With younger kids, if you had the time, it's a great way to get them started in the kitchen as their attention span doesn't usually extend to prep and clean up 😛 I'd love to see a few more options for those that have intolerances or don't eat certain meats, but I expect this will come in time 🙂 As a stay at home mum, and with only one person bringing in the dough, the idea is lovely but probably a bit much for us week to week.  If I knew there was an ultra busy week coming up though, I would not hesitate to grab a Classic box again.
Ok so you've read through my ramblings 😛, so here's a little something for you thanks to WOOP.  Head off to my Facebook page, to be in to win your very own trial Classic box from WOOP 😆  Closes 5 August 2016 and only open to Auckland delivery addresses, so be in quick 🙂
COMPETITION NOW CLOSED.  Check out who won here.
Terms & Conditions:
Entry is deemed acceptance of all terms & conditions stated.
Entry is open to Auckland, NZ Residents only. Entry to this giveaway is free, no purchase is necessary. Runs from 7pm 3/08/2016 to 11pm 5/08/2016.  The Prize is 1 Classic meal delivery box from WOOP. The winner will be announced on the imnotsupermum blog and on Facebook; and will have 2 calendar days to claim their prize. In the event of the prize not being claimed within 2 calendar days, a new winner will be drawn. We will endeavour to send the prizes out as soon as practically possible. Responsibility is not accepted for prizes lost, damaged or delayed as a result of delivery failure of any kind. Prizes are not transferable, re-saleable or exchangeable. There is no cash or other alternative to the prizes in whole or in part. Entrants are deemed to have given imnotsupermum.com consent to contact them for marketing purposes. All entries become the property of imnotsupermum.com, and may be used for promotional and marketing purposes. This promotion is in no way sponsored, endorsed or administered by, or associated with Facebook. E&OE.
Have you tried any food delivery boxes from WOOP? Love to know what you think 🙂  Alternatively, what's your family favourite quick and easy meal?
Disclaimer:  The 4 Meal Classic Menu Box was provided courtesy of World On Our Plate.
Comments
comments