Ok, if you told me I would go to a buffet restaurant with my kids in tow and ENJOY it, I would have said you're crazier than I.  But that's what happened on Sunday, and truth be told; I actually enjoyed it.
See, buffet restaurants mean I have to go get my own food; whilst watching my kids; and if I have to do that, why go out? But there we were, last Sunday; as guests of family friends; sitting & enjoying lunch at Eight, with kids that seemed to be behaving.
Eight Restaurant is in the Langham Hotel in Auckland City.  It features "eight" different kitchens & the best part is, you can have as MANY courses as you can fit! 🙂  There's the:
Asian noodle & dim sum kitchen: Tried the noodles – vegetarian, nice flavour & full of veges.
Fresh seafood bar:  Very nice; There's an array of fish (trevally, salmon & some other I don't know lol) & other seafood, which you can pick & they will cook it right in front of you.  Really enjoyed this & so did my kids.
Sushi & Sashimi Kitchen:  With both the sushi & sashimi prepared right before your eyes, it was very fresh.  Kids & I enjoyed the salmon sushi rolls, which were made with salmon pieces rather than sliced smoked salmon.
American-style grill:  Again an array of different veges & meats, sausages etc.  Cooked as you wait to the degree of doneness you request.  Would have liked it a bit more "well done" but was still quite nice.
Indian Kitchen:  An ok range.  Had the standard rice, butter chicken, tandoori chicken, naan bread, chutneys etc.  For the day there was also goat curry.  Would have liked a bit more heat in the butter chicken, but then that could be the Indian in me talking 😛  Nothing unusual to be honest.
Salad bar:  To quote my hubby – "A fine selection of rabbit food" lol.  A good selection of fresh salad.
Bakery:  To be fair, didn't really visit this kitchen as the selection on the day was limited to breads & cheeses.   No sight of any pastries, waffles or pancakes, as the website advertises 🙁
Dessert:  The best part of this whole dining experience, and I believe, the main reason my kids behaved themselves throughout lunch!  The sight of the chocolate fountain stopped my 4 year old in his tracks, and he really enjoyed dunking his skewered fruit into the chocolate.  The creme brulee, for my husband & myself, was the best best best dessert; and I'm usually a chocolate lover.  Just thinking about it is making me drool 😛
Service was terrific! The waitstaff were attentive & very helpful when it came to finding a high chair for the little miss.  Our water glasses were topped up frequently & plates cleared without delay.  With the water glasses, it would have been nice to have the preschooler's glass filled only half way, but then that's just my preference 🙂
Definitely looking forward to going to Eight again.  I loved the food, the fact that you could try a variety of different things, and most of all that my kids had tons of healthy stuff to eat without any of the standard fare you find at most family style restaurants.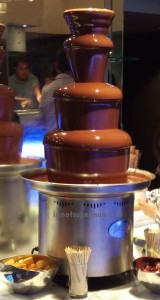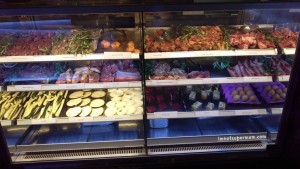 Comments
comments