OMG! OMG! OmG!  Got our my first BlackBox 🙂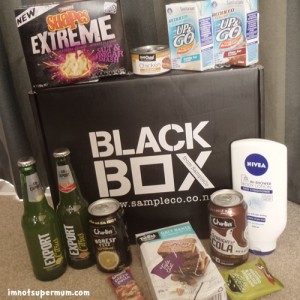 So many kewl new things to try (and a few old things in a new form).  Took us a couple of days to get through most of it, and that's without trying lol
Thanks #BlackBoxNZ ! (sampleco.co.nz)
Chop!Chop! Chicken (Lite Mayo)
I remember when this first came out.  It was a case of should I/shouldn't I. Fish in a can – Fine… Chicken? Bit weird? Didn't want to buy a whole can to chuck it in the bin; not that it's too expensive, I just hate throwing out good food; so was happy to see this in my BlackBox.  Did we enjoy it? Yes.  Would I buy it again? Probably not that flavour – it was a bit bland for our taste buds even with added veges etc. (Update: Since trying a couple different flavours, we've decided this is a keeper! Teriyaki and chilli being the favourites in this house. Teriyaki a big hit with the kids.)
Up & Go Reduced Sugar (Vanilla Ice & Choc Ice)
OK well this product wasn't new to us, as the original version was a lifesaver! The original Up&Go was the only breakfast that didn't do funny things to my numbers when I was diagnosed with gestational diabetes in my first pregnancy and it had the added bonus of actually filling me up. The new Reduced sugar Up&Go didn't seem to really taste any different but I'm guessing that it might be even better than the original Up&Go at helping to manage gestational diabetes. No surprises the Choc Ice was my favourite 🙂
Nivea In-Shower Body Lotion (Normal to Dry Skin)
Another product that was not new to us, as I have the In-Shower Rich Body Lotion already 🙂 For time poor mums, like me, getting the time to do the proper all over body moisturise after a shower is difficult to say the least. At times even a 5 minute shower is too long! So IMHO, this product is great! Just lather on while standing in the shower, and then wash off. How simple is that! And it does make my skin all nice n soft 🙂 Just a hint though, make absolutely sure you've washed it all down the drain. If any is left behind on the shower floor, it's an ice rink for the next person in the shower!
Arnotts Shapes Extreme (Salt & Vinegar Smash)
Didn't actually like this one.  Absolutely LOVE the original Shapes Pizza Flavour (could eat almost a whole box in one sitting, how bad is that!), but didnt quite like this flavour.  Thought it was a bit tooooo extreme. Even the kids weren't too fussed on this one. Will have to try the other Shapes Extreme flavours.
Charlie's Straight Up Cola
So this one was a big hit with hubby n I. Cola with a touch of lemon was a good change, and it didn't taste artificial. Wasn't tart lemon, and was a smooth cola which I like. Will definitely be adding this to the grocery list as a treat for us big kids 🙂
Charlie's Honest Fizz (Lemonade)
OK so not a big fan of lemonade, never have been, so probably not an unbiased review really. Thought it was quite well flavoured, if you like strong lemon, and hubby thought it was ok. Will probably try the rest of the flavours as well, as have seen that they do Charlie's Honest Fizz Orange & Mango! (Update: Have now tried both the Raspberry & Orange and Mango. The raspberry fizz actually takes like raspberries!! But the Orange & Mango has to be my absolute favourite. Even better than the Charlie's Honest Cola! Definitely an additional treat added to the grocery list.)
Tasti Oaty Bakes (Triple Choc)
Nice product, albeit a little dry on its own. Great with a cuppa though, and both kids enjoyed it too. Bit small and too few in the box tho (6). Probably better than a lot of the sugary muesli bars out there so will most likely keep in kind for lunchbox days 🙂
DB Export Citrus (Lemon & Grapefruit)
Now I don't like beer. Never have; think it tastes foul. BUT, did get a sip of both the DB Export Lemon & DB Export Grapefruit, before hubby downed them. And honestly, I would probably buy the lemon again. It would make a great summer drink, it's quite refreshing and I almost forgot it was a beer. Wouldn't swap it for my wine or whisky tho 😛 The Grapefruit wasn't to mine or hubby's taste; possibly because neither of us like grapefruit.
Watties Pizza Paste
The Watties Pizza paste was YUM!! Got to us just in time for me to make our favourite english muffin pizzas for dinner. Did have to make some with the plain pizza sauce I usually use, as it wasn't enough (only enough in 1 sachet for 2 medium pizza's) ; but you could really taste the difference! Definitely a convert here WattiesNZ! As soon as I figure out where to buy it, I will be.
Savour Roasted & Salted Soybeans (Edamame)
With the Savour Roasted & Salted Soybeans, we're a bit on the fence. Would we eat it again? Yeah probably. Would we buy it on a regular basis? Probably not. It's a very healthy snack, but we both find a bit dry compared to a lot of the snack nuts that we do purchase. Kids weren't fussed on them either.
All in all a mixed reaction to our first BlackBox. Definitely changed our minds on a few products (like the chop!chop! Chicken) and we will probably be seeing a few of these products popping into our trolley from now 🙂 Thanks BlackBoxNZ!
Like the chance to get your own BlackBox? Visit sampleco.co.nz

Comments
comments